The Pool Protector Pool Alarm is an electronic pool alarm monitor that will alert you when someone falls into the pool when no one is around.

The pool alarm is equipped with the sensor for the pool side, and the alarm unit inside your home. If someone, or even your pet, falls into the pool, the alarm will sound inside your house.

Once installed, the Pool Protector cannot be deactivated, so it will always be armed and ready.  You can switch it to "sleep mode" for while you are swimming in the pool. It will reactive on its own when it knows there is no movement in the pool. If the alarm is tampered with by someone who does not know how to switch to the sleep mode, or someone who may try to remove the unit - the alarm will sound.

Installation and operation are very easy. The sensor unit attaches to the side of the pool deck or patio (as shown in picture), the remote receiver is mounted easily inside the home, and with the press of a button, the pool alarm is activated.

The Pool Protector Pool Alarm operates on two 9-volt batteries (not included) and should last approximately one year.  The remote receiver, which has a 200 foot range from the sensor, comes with a 12-volt power supply. There is an audible low battery indicator that will beep on the pool sensor unit, as well as the receiver unit.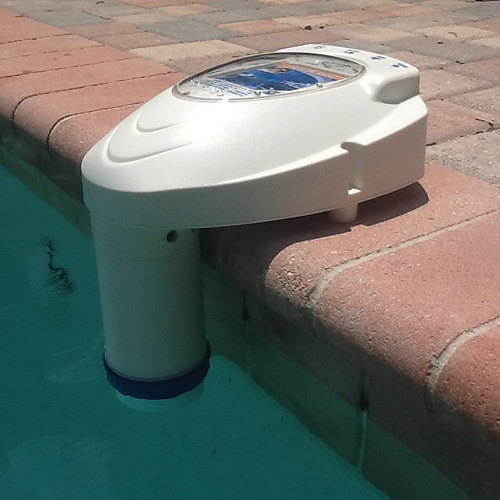 IMPORTANT: The Pool Protector Pool alarm is not intended to be used as a life saving device. This device is also not intended to replace any other safety consideration, adult supervision, lifeguards, fences, gates, pool covers, locks, etc., and may not detect gradual entry into the pool.