Wildfire 1/2 oz Pepper Spray w/Quick Key Release Key Chain
Keychain Pepper Defense Spray
This mini protector fits on the keys you already carry everyday and is always ready to fend off an attack. One blast of this pepper defense and your assailant will immediately stop their assault.
Bar none, this is at the top of the list as far as hottness is concerned. While you don't even need a pepper spray this hot, you may as well make sure the job gets done right the first time. Wildfire is that brand.
Having something with you to protect yourself at all times is a wise philosophy. Make it easy as ever by attaching this keychain defense spray right on your keyring. It will be there for you in a moment's notice and you will have the ability to stop someone trying to hurt you.
Take charge of your own security and be that person that can stand up to whatever faces you. You can have that confidence with the Wildfire Pepper Defense Spray for your Keychain.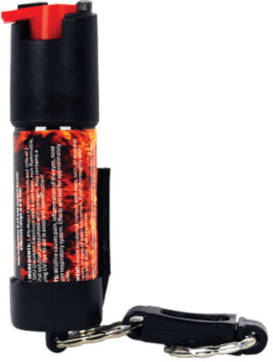 The WILDFIRE® PEPPER SPRAY is hot, hot, hot. The Major Capsaicinoids are the true heat measure and WildFire has the hottest on the market at 1.4% Major Capsaicinoids.
In addition to causing an attacker pain WildFire 10% oleoresin capsicum formula swells the mucous membranes, which makes breathing difficult. This pepper defense spray also swells the veins in the eyes, causing the eyes to close.
It's made from 2,000,000 SHU's of raw pepper and these effects can last up to 45 minutes and cause no permanent damage.
Has a UV identifying dye to help aid in the identification of an attacker.
Wildfire 1/2 oz. Pepper Defense Spray Keychain has a range of 6-8 feet and comes with a quick release keychain and pocket clip.
Each unit provides 6-10 one-second bursts and comes with a safety lock. 3 ⅝" x 1"
Wildfire Sprays can not be shipped to New York or Massachusetts.