Wildfire is an improved formula that reacts quickly and effectively to disable any assailant.
WILDFIRE® PEPPER SPRAY is hot, hot, hot.
The Major Capsaicinoids are the true heat measure; WildFire has the hottest on the market at 1.4% Major Capsaicinoids.
Wildfire Spray
WildFire 4 oz 1.4% MC (Major Capsaicinoids) is a favorite with security guards and gives great protection at home.
With this sized unit, you can get up to TWENTY 1-second bursts! More than enough to stop even multiple people. This size is great for an RV, camper, home, or as a utility belt everyday carry spray.
In addition to causing an attacker pain, this 10% oleoresin capsicum formula swells the mucous membranes, which makes breathing difficult; and swells the veins in the eyes, causing the eyes to close. It's made from 2,000,000 SHU's of raw pepper and these effects can last up to 45 minutes and cause no permanent damage. Has a UV identifying dye to help aid in the identification of an attacker.
Get yourself the leatherette holster with belt clip to carry on your belt.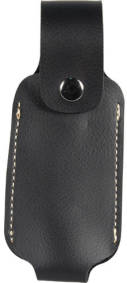 The 4 ounce Wildfire Pepper Spray comes in either a fogger, stream, or Flip Top Stream model. The flip top has a cover over the actuator that you flip up with your thumb and then you press down on the trigger actuator.
All 4 oz. models have approximately 18-20 one second bursts and a range 13-15 feet. 5 ⅞" x 1 ½"
4 oz Wildfire Pepper Sprays can not be shipped to New York, Massachusetts, Michigan or Wisconsin.
Wildfire Pepper Spray one of the most potent pepper sprays on the market. This brand contains 18% OC (oleoresin capsicum), which means it's rated at an incredible 3,000,000 Scoville Heat Units. A quick burst of this can disable an attacker for up to 45 minutes, which puts it in line with what is used by law enforcement officers.
Protection
This fogger fires in a wide cone pattern, making it simple to hit your desired target. It also contains a UV Dye that can mark assailants, making it easy to identify attackers even if they manage to get away. It provides optimal coverage for protection in a variety of situations.
All models have a decent range and there is more than enough solution in this larger can for multiple attackers. This allows you to defend yourself against animals and human assailants before they are able to get too close. Just one well placed nitrogen-propelled stream to the eyes is more than enough to immobilize an attacker so that you can get to safety and alert authorities.
Wildfire is designed to be easy to use. Just a single press of a button will allow you to release a potent stream of powerful and effective self defense spray. The container is equipped a safety mechanism. This means you'll always have control over your pepper spray to avoid any accidental discharge.
Easy to Carry
It is also designed to be easy to carry. Smaller sizes can be carried in a purse or briefcase, and many canisters can easily be clipped onto a belt, while others can be stored in a holster. For at home or office protection, sizes as large as one pound are available and can be stored in a night stand, cupboard or closet. You'll always be able to keep your protection near to you.
Wildfire brand is made in the USA. It's a quality product that is known for its consistency. When you choose to buy this spray, you can depend on what you are getting.
Long Shelf Life
This product has a 36-month shelf life and is labeled with an expiration date. It can be stored for emergencies for a good length of time before needing to be replaced. The spray can be used against human assailants, but it is also effective against animals. It's an easy-to-use and valuable option for anyone that is seeking a non-lethal self-defense item.
Because this spray is a self defense weapon, it's important to familiarize yourself with local laws before you make a purchase. Some states and cities have restrictions surrounding pepper spray. You should make sure that having a can of this is legal in your state before placing an order. See above for specific states. Smaller sizes are available for Michihgan and Wisconsin residents.