This here is one of the premium stun guns on the market today. It's small size and powerful electrical discharge make it a favorite among our customers.
Heavy duty prongs are affixed at the tip to handle the immense energy that emanates from this commanding self defense device. Use with confidence that you'll be able to stop someone and be able to get away.
The Runt Rechargeable 20,000,000 volt Stun Gun will fire 300-500 times on a full charge. Available in Black, Red, Purple, Pink, and Blue.
The wrist strap disable pin must be inserted in order for the stun to work. This prevents the runt stun gun from being used on yourself if it is taken away from you and you have the wrist strap around your wrist.
Features:
Rechargeable
Disable Pin
20,000,000 Volts
4.5 milliamps
Built in Flashlight
Nylon Holster Included
Life Time Warranty
Rechargeable Runt Stun Gun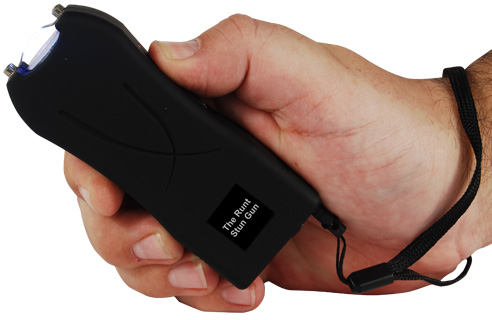 The whole unit plugs into the wall with the retractable plug. It slides out when you want to plug it in, and slides back inside when you are done charging. It takes about 6-8 hours for it to fully charge up. And depending on use, you should only need to charge it every two or three months.
An optional leather Runt holster is available for this model