Are you looking for something to protect your fists? With these tough plastic coverings, you don't have to worry about bruised knuckles anymore.
Hard Knuckle Fighting & Combat Gloves
Hard Knuckle Tactical self-defense gloves massively improve every punch while protecting your knuckles from impact!
Hidden Thermoplastic protectors provide the effectiveness of brass knuckles with the discretion of casual gloves! Confidently wear your self-protection in plain sight!
Don't lose another fight because your punches are weak! Gain the advantage with these equalizers.
The goatskin leather makes these gloves smooth inside and very comfortable to wear for long periods of time.
Also GREAT for motorcyclists to protect from road rash, in case of an accident!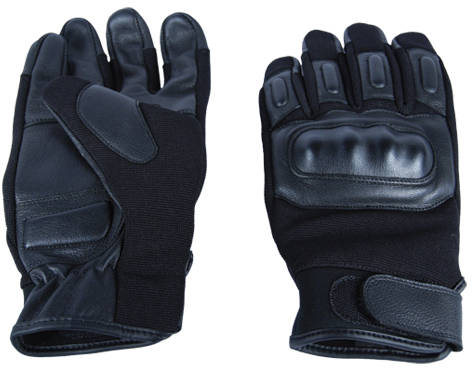 Features:
Thermoplastic Protectors strategically sewn into the knuckles to increase punching power and shield knuckles from impact.
Double-Layered Genuine Goatskin Leather palms for maximum durability & comfort
Spandex provides breathability & freedom of movement
Loop Wrist closure with Velcro for taut & secure fit
Additional padding to protect your fingers.
The look and feel of casual gloves
Large: 9 1/2"-10" XLarge: 10 1/2"-11"
Lifetime Warranty: Our Hard Knuckle Tactical Gloves are made of the highest quality components and come with a lifetime warranty. See the enclosed instructions for complete details.
Please note: this item CAN NOT be shipped to Massachusetts, California, Pennsylvania, or New Jersey.