This dual purpose personal alarm comes with two attachments - one used for a door alarm, the other used for a personal alarm to carry on your wrist or to clip onto your purse or belt. Belt clip included. Keychain attachment included.
It is lightweight and very portable - The extremely loud sound is your summons for help during an assault or it can be used in the case of a medical emergency. 
Pull Pin - Remove to Activate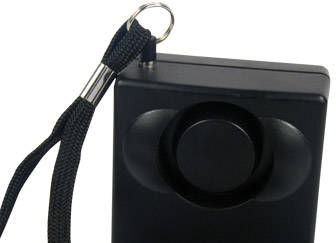 Your scream or yell for help is as easy as pulling a cord!
One of the Loudest Personal Safety Alarms
The pin is firmly in place when connected, but will emit a hurricane force caterwaul when removed!
Easy to carry in a purse, inside a pocket or clipped to a waistband or belt.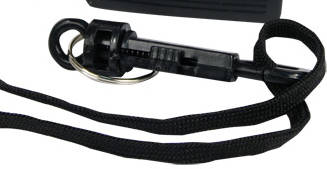 Comes with the pull cord and a keyring wrist strap which you can tether to your pants or bag or even your car keyring. Pull the cord so the pin comes out and the alarm will be activated.
Designed to draw attention to any crisis, our 130db PERSONAL SAFETY ALARM is as loud as eight 100 decibel alarms.
The alarm is activated when the strap attached to the pin is pulled. Travels easily on your belt or in your purse.
The Door Alarm accessory converts the Personal Alarm into a portable door or window alarm.
To use as an opening detection device, you use the attachment with the metal clip.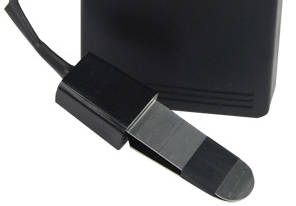 Metal Clip
Slip the metal clip in-between the door and jamb so that the clip stays together. When the door is opened, the metal clip will separate and the loud personal alarm is set off. Same idea when used as a window alarm. Put it in place so that when the window opens, it will let everyone in the house know that someone is trying to get in that shoudn't.
Great family security device for home, hotel rooms, college dorms, etc.
Alternate Internal Home Security Alarm
There are many other ways you could come up with to use this trigger activated safety device. You have two methods of sounding the alarm: using the metal clips or just the pull pin. Underneath a garage door as an example. Inside your home you can protect every entry point with a burglar alert.
As a versatile and reliable home security alarm, you can set up your own internal perimeter! 
Requires one 9 volt battery (not included). Dimensions: 3" x 2" x 1". Weight: 1.8 oz.