The World's Fastest Opening Knife doesn't use springs or gravity requires only one hand to open. It measures Open 9" Closed 5.5" Blade 4". It's made of 3Cr13 stainless steel blade.
ABS plastic handle with a Stainless Steel clip.
Fastest Assisted Opening Knife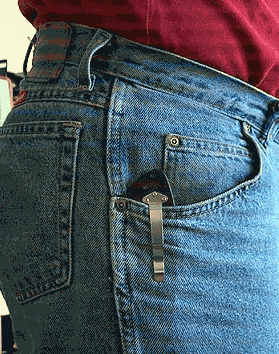 See how quick it is to open this knife just by taking it out of your pocket? The little lip catches the corner seam of your pocket and naturally and mechanically open the blade.
This assisted opening knife assures you the quickest draw for pulling your knife out and being ready to use it. It is automatically ready to use the moment you take it out of your pocket.
Sometimes when you need a blade, fractions of a second count. With this auto opener, you're sure to have it open in the shortest amount of time there is. You're not taking the knife out of your pocket and then unfolding the blade; it is already open the instant you remove it from your jeans.