Nothing complements our Lil Guy Stun Gun better than the Lil Guy Stun Gun Holster. This leatherette holster holds this or similar tasers while keeping them close if you ever need some protection. While the holster looks great, this is more than an accessory. The holster provides a useful function that makes the stun gun even easier to reach.
The leatherette material feels great and is nearly identical to real leather. There's premium stitching around the edges and it has the amazing texture of leather that everyone loves. It's the same material regardless of color, so you'll get this no matter which color you choose.
Lil Guy Stun Gun Holster
This holster comes with a heavy-duty belt clip that ensures it stays in place throughout the whole day, whether you're walking, running, or doing another activity. You do a lot and you need a holster that stays around the whole time. There's even a ring so that you can hang the holster from your belt or pants.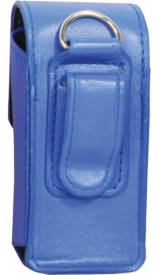 You might also worry about the top flap opening up and letting the taser fall out. That's a reasonable worry, but it's not a problem with this holster. The flap is magnetized so that it's attracted to the holster. This gives it enough resistance to stay in place, but it's easy to open and access the taser when needed.
Due to the design, you can hang the holster on either the right or left side and still gain the same level of access to your taser. It's the same either way. You'll never have to worry about fumbling around for your taser when you desperately need it. Flip the flap up, remove the taser and you're good to go.

The Lil Guy Stun Gun Holster comes in six different colors: red, purple, pink, green, blue and black. Pick your favorite. You can either choose one of the brighter colors so that everyone knows you're packing a little heat or get black to make the holster harder to notice.
Some of the Lil Guy Stun Gun Holster features are:
- Made from leatherette material that looks and feels like real leather
- Secure, magnetic flap that always keeps the holster closed until you need it
- Premium belt clip that keeps the holster in place all day, no matter how active you are
- Can be placed on either the left or right side, depending on your dominant hand
- Comes in six different colors: red, purple, pink, green, blue and black
This holster is ideal for the Lil Guy Stun Gun or any similar taser. Not only does the holster look great, but it's highly durable and the leatherette feels great and looks like real leather. If you want a secure holster that can keep up with you no matter how active you are, then this is the perfect one for your needs. It'll ensure the taser is close at all times in case you ever need it.