This is a great hidden home safe to check off your home safety checklist. This diversion safe is an actual working clock – when you insert an AA battery (not supplied) and hang the clock, there is no reason for anyone to think it is anything other than a regular timepiece. However, the back of this money safe opens up to reveal a secret hiding compartment.
The approximate measurements of the clock are 10.23 " (H) x 10.23 " (W) x 2.75 " (D), and the interior safe compartment measures 2.0 " (H) x 8.5 " (W) x 2.0 " (D).
This is the perfect size to store cash, or if you are using it in an office environment it would be great for valuable USB drives and other data storage devices.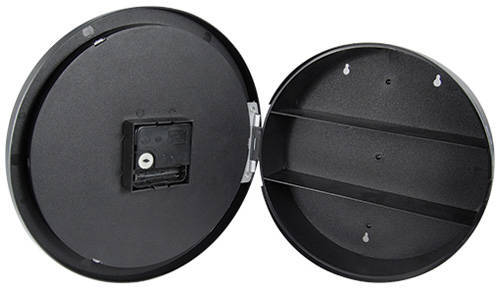 Wall clock hidden safe opens up to reveal a secret hiding spot.
Measurements are approximate.
•Dimensions: 10.23 " H x 10.23 " W x 2.75 " D
•Safe Exterior Dimensions: 8.5 " H x 8.5 " W x 2.0 " D
•Safe Interior Dimensions: 2.0 " H x 8.5 " W x 2.0 " D
The clock works on 1 AA battery (not included)
Use report: Eric was promoted to manager of his department a few months ago, a post which came complete with his own corner office. He can look out across the city and watch the world go by without fear of being disturbed. He often likes to use the office gym on his lunch break but is worried about leaving his watch in a locker. Eric likes this wall clock safe because it means he can safely store away his watch while he's in the gym, and he doesn't need to worry about remembering change for the lockers.
You might say this was a timely solution to Eric's problem! Order your clock safe today and keep your valuables secure.